Angela leads Client Management and Delivery for J.P. Morgan's Commercial Card Group in the U.S. and Canada. Her group serves nearly 10,000 corporate clients through an organization of 100+ client-facing, revenue generating staff.
Her group partners closely with banking, treasury sales, and product executives across each business unit within the Firm -- managing clients from small businesses to global corporations. The group is focused upon driving and fostering client satisfaction, employee engagement, client retention and growth among several other measures of success. 
Prior to this role, Angela was the General Manager for the U.S. Strategic Distribution Partnership Group within J.P. Morgan where she was responsible for executing against the Firm's embedded payments agenda. Her group was responsible for designing and developing new card acceptance features and capabilities, client implementations, and client account management to drive adoption and revenue. In this role, Angela led the team through a complex transformation – integrating business process, practice, and culture of a fintech (WePay) with the Firm's legacy business(es). In her 24-years with J.P. Morgan, Angela has also led client coverage teams in the Firm's Treasury Services division and also within the Small Business Banking unit.
Angela earned a B.A. in economics from the University of Michigan and an M.B.A from Northwestern University's J.L. Kellogg School of Management. When she is not busy at work she loves to read, work puzzles, and she is also working toward achieving her personal goal of becoming bilingual. And when she finds free time, she and her husband Brian are busy teaching new tricks to their three dogs – Woody, Remy, and Louie.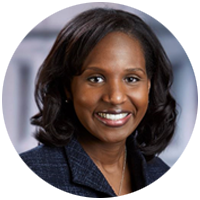 Angela Martin
Managing Director
 J.P. Morgan Payments