Bunita Sawhney is executive vice president, U.S. Financial Institutions, leading the company's relationships with largest institutions such as Bank of America, Capital One, Wells Fargo, and US Bank as well as the community institutions and credit unions nationwide. In this role, she is responsible for continuing to grow the consumer, small business and commercial business through strong partnerships, innovation and thought partnership for today's most relevant topics such as DEI, CX, Digital Enablement, ESG, Open Banking and more.
Bunita joined Mastercard in 2016 and has held positions in Global Debit & ATM products, where most recently she was responsible for the leading the business with a focus on global product line strategy, portfolio optimization, product development and the roadmap for the Debit Mastercard, Maestro and ATM offering. Under Bunita's leadership, the team has helped realize Mastercard's version of a world beyond cash by creating and enabling relevant experiences – in which people choose how, when, and where they want to pay – simply, securely, reliably, and confidently.
Prior to joining Mastercard, Bunita spent nearly 12 years at HSBC Bank, USA where she was the Head of Customer Value Management, a broad function which included the strategy and execution across Consumer Propositions, Products, Marketing, CRM and Analytics. While at HSBC, she held various leadership positions including heading the Cards & Unsecured Lending business, ATM Channel, and Consumer Segment Strategy and various Product, Pricing and Marketing responsibilities. She has also held various management roles at leading financial institutions throughout the United States including Wells Fargo Bank, JP Morgan Chase, and Citibank.
In addition to her corporate responsibilities, Bunita has been a Lecturer at Columbia University teaching the Winning Teams (Organizational Behavior) course in the Master of Science in Communications Practice program. She has been a mentor for the 30% Club and most recently, she was appointed the Global Executive Sponsor of the Women's Leadership Network (WLN) at Mastercard.
Bunita has a Master's Degree in Strategic Communications from Columbia University and a Bachelor's Degree in Business Administration from the Walter A. Haas School of Business at the University of California, Berkeley.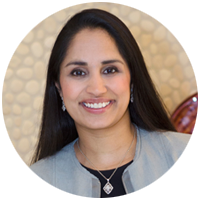 Bunita Sawhney
 Executive Vice President
 U.S. Financial Institutions
 Mastercard