Eva Robinson is the Public Sector Industry Head for Treasury Services within J. P. Morgan's Corporate and Investment Bank. Eva serves as the senior Treasury Services executive in Washington, D.C. for client relationship management. She manages a team that is responsible for client coverage and sales across financial products. Eva's portfolio of clients includes large Federal departments, government enterprises and global development banks.
With over 20 years in both the private and public sectors, Eva's financial services experience spans all facets of business including strategy, relationship management, product, sales, program management and technical consulting.
Her prior history as a government executive within the Department of the Navy and her work with multiple federal agencies position her to appreciate the unique needs of our government clients.
Within J.P. Morgan, Eva is a member of the Washington, DC Market Leadership Team, the Black Executive Forum and the CIB's Black Leadership Forum Steering Committee. She is a strong advocate for the Firm's Diversity, Equity and Inclusion agenda.
She is the recipient of numerous awards, recognitions and accolades for her contributions to both the public and private sectors.
Eva is a board member for Fair Chance of D.C. "where every child succeeds". She earned her undergraduate degree in Business Administration and her Masters in Organizational Leadership.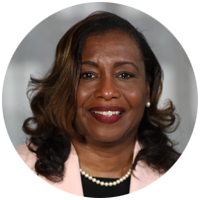 Eva Robinson
Managing Director, Industry Executive for Government and Public Sector, Treasury Service
JPMorgan