Geetha Gandhi leads Avanade (joint venture of Accenture and Microsoft) Global Payment COE and digital transformation. She joined Avanade from JPMorgan Chase where she built and managed large scale global financial systems for 15 years in retail, credit card, global payments, and treasury line of business. She started her financial services career at JPMorgan Chase as a developer in chase.com , lead global payroll systems, treasury systems and moving critical banking systems to the public cloud.
Geetha specializes in Evolutionary business lead architecture and is an expert in merging tech and innovation with the deep payment domain expertise to provide business centric solutions for clients in the rapidly changing global payments. She leads digital transformation for large banks, fintech , payments in retail, healthcare ,manufacturing industries globally and with assets in new payment types ,new channels like live streaming and meta verse and integration for RTP and decentralized blockchain. She is Accenture Master Technology Architect and has 2 patents one in Synthetic Monitoring of complex payments systems and Global Digitalization cloud architecture.
Geetha leads inclusion and diversity programs at Avanade to grow the number of women technologist and is an advisor, mentor for programs like Girls who code.
She is a board member of Green software foundation to bring sustainability to Technology. She lives in Tampa, Florida with her husband and enjoys travel, hiking mountains and cooking global cuisines.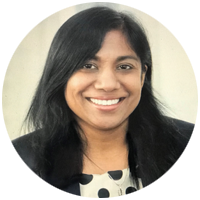 Geetha Gandhi
Global Payments and App Transformation Lead
Avanade