Jennifer Acosta is a Managing Director and the Industry Head for the Technology, Media and Telecom sector of Large Corporate Treasury Services. Jennifer manages the sales strategy and execution of a team that serves the large, globaland complex needs of these corporates as well as personally manages some of the largest clients in this space. 

Jennifer and her team leverage their expertise and thought leadership to drive end-to-end payments and liquidity solutions that support corporate clients' needs throughout the world.  She is also Co-Chair for Women-on-the-Move across the JP Morgan Payments franchise and remains passionate about advancing career mobility and diversity across the business.

She has been with the firm for 14 years. Prior to joining J.P. Morgan, Jennifer spent 15 years at GE Commercial Finance in progressive roles in sales leadership and relationship management tied to several strategic clients of the company.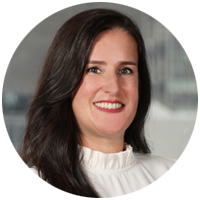 Jennifer Acosta
Managing Director
Global Head of Media & Telecommunications
& NAMR Enterprise Technology
J.P. Morgan Payments