Linda Kugblenu is a Vice President Product Solutions Specialist at JPMorgan where she covers cross-border payments and remittances and is a thought leader in Payments.
As an advocate for financial inclusion, Linda is passionate about partnering with financial institutions, government bodies, corporations, public sector agencies, and entrepreneurs to make capital accessible for positive social and economic change.
In 2022, Linda was awarded a RiseUp fellowship through Money 20/20 USA. As a Fulbright scholar, Linda worked with small and medium sized businesses (SMBs) in Uganda where she leveraged financial technology to help local women-led businesses acquire capital, troubleshoot business obstacles, and promote financial independence.
Did we mention Linda is multilingual? Yes! She speaks five languages and has years of experience working in Asia, Europe, Africa, and North America in Payments, impact investing, micro-finance, and financial publishing. In her spare time you can find Linda in a boxing ring or sipping chai from her collection of vintage porcelain tea mugs.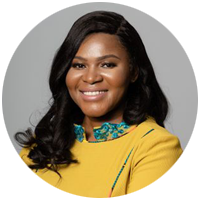 Linda Kugblenu
Vice President Product Solutions Specialist
J.P. Morgan Payments