Michelle Ziolkowski is a Senior Vice President in the Enterprise Payments Strategy team.  As such,  she is the Product Group Lead, responsible for setting the payables strategic direction and product roadmap for Wells Fargo.  In addition,  Michelle is managing the Instant Payments iniatiaves across the enterprise.  Previously, she was the Head of Global Payables in Treasury Management, which includes domestic and international wires and ACH, check disbursements, Payment Manager and Invoice Automation.  She also led the ACH Product Group and Electronic Commerce Services Emerging Products team focused on AP and AR automation.
Michelle joined the Wells Fargo team from American Express, where she was a Senior Client Partner focused on Payables Automation.  Michelle was responsible for managing existing client accounts as well as on-going support activities for sales and reseller organizations. 
Prior to American Express, Michelle was a Manager in the Enterprise Resource Planning Division of Deloitte Consulting for 5 years.  She was responsible for financial system implementations and software integration.  She also focused on the use of technology to improve service, product delivery, and business reporting capabilities.
Michelle holds a degree in Economics from John Carroll University and an MBA in Finance from the Katz Graduate School of Business at the University of Pittsburgh.  Michelle is a Certified Treasury Professional.  She is a member of the Board of Directors for Nacha as well as WesPay Payment Association.  Additionally, Michelle is Chairperson of the Nacha Nominating Committee, and is a co-chair on the Early Warning Services Wholesale Payments Advisory Committee.  Michelle was recognized by PaymentSource as one of the Most Influential Women in Payments in 2021.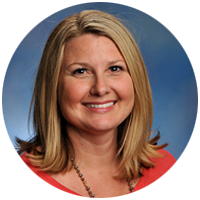 Michelle Ziolkowski
Senior Vice President
Enterprise Payments Strategy
Wells Fargo