For 15 years Nayelli has helped develop people and organizations inside changing and challenging environments. Her international experience, starting with university in the Netherlands, has helped her to understand cultural differences and used them to empower people and teams. 
Nayelli serves as head of HR, North American for, Ingenico, a Worldline brand's, where she leads the HR efforts across the United States, Mexico, and Canada and serves as a member of the North America Board for the company. In this role she is responsible for ensuring that employees are well recognized, engaged, productive and happy. As the payment industry is a constant changing environment, Nayelli focuses on developing HR strategies that match the rate of change and innovation employees are used to.  
In her personal time, Nayelli has found yoga and swimming to escape and maintain a strong mind and body and help her to create discipline and be organized for a very busy life. She is passionate about both sports, having practiced them for 10 years.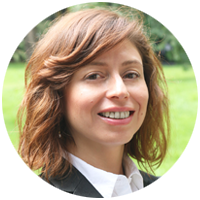 Nayelli Cruz
HR Head TSS North America Region
Worldline