At Swivel, an SWBC Company Nicole Hill is the Payments Compliance executive member of Swivel Payments team reporting directly to the CEO of Swivel.  Nicole works closely with the Executive Leaders as a trusted advisor and leader for Payments Risk & Compliance.  Nicole is accountable for leading the risk management and compliance governance functions for one of SWBC's largest growth products with expertise to the Risk, Compliance and Payments teams, including growth and development of her team, and overall successful compliance of the Payments Program. Nicole started with SWBC/SWIVEL in March 2022.

Nicole has broad experience in risk management and payments compliance.  She has over 20 years of direct experience in risk, compliance, and fraud management for financial institutions with payment processing across North & South America. She previously served as the SVP, Head of Consumer & Shared Services Risk Oversight for Citizens Bank.  

Nicole received an Associates degree in paralegal studies, Bachelor of Science in Business Administration, Master of Science in Account and Financial Management, and Master of Business Administration at Keller Graduate School of Management.  

She is active in the Payments Community for Financial Institutions and holds her Accredited Payments Risk Professional certification (APRP).  She is a member of Women in Payments, Third Party Payment Processor (TPPPA), ePay, and NACHA Alliance member.  Nicole is also very active volunteer in the community and currently the finance co-chair for Atlanta Women's Foundation, National Black MBA Association, Board Member for Communities in School of Georgia.  

She resides in Atlanta with her husband of 16 years and two daughters.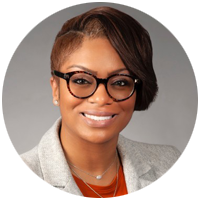 Nicole Hill
 SVP, Payments Risk & Compliance
Swivel