Nik Sathe is the chief technology officer (CTO) at Blackhawk Network where he leads the company's global technology strategy and teams in the expansion of its global footprint and capabilities in payments and payment technologies.
A veteran technology executive, Sathe has built, led and scaled teams and platforms across technology and financial services. Most recently, he served as vice president of engineering for Google Nest, where he was responsible for the strategy, design and development of Google's Nest, Chromecast and Home branded products and Smart Home ecosystem. Previously, Sathe was CTO of American Express, co-CTO at PayPal, and part of Google's Wallet team, giving him experience and insight into the changing payments landscape.
Sathe has prior experience at JP Morgan Chase and several start-up and public technology/software companies. He has a Bachelor of Science in electrical engineering from Lafayette College and serves as an advisor to technology start-ups and entrepreneurs.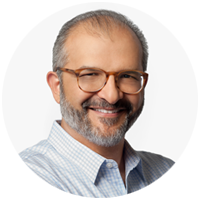 Nik Sathe
Chief Technology Officer
Blackhawk Network