Rachel Eisenpress is Vice President of Global Digital Partnerships at Mastercard. In her role, Rachel heads a team working with the world's leading technology companies to create innovative solutions that shape the future of commerce. Through a consultative approach, Rachel and her team enable partners around the globe to build best-in-class solutions tapping Mastercard technology and deliver them at scale.
Rachel joined Mastercard in 2019, first within the company's Enterprise Strategy unit, during which time she played an integral role in developing and communicating strategies around new payment flows, installments, and B2B. Rachel also moonlights as Mastercard's resident fintech blogger, authoring the popular fintech funding newsletter Who Shook The Smart $ Tree.
Before joining Mastercard, Rachel served as a strategy partner to her founders and CEOs at several startups; and previously began her career at Bank of America Merrill Lynch in Healthcare Specialty Sales within the firm's Global Markets practice.
Rachel holds an B.A. in English Literature from Northwestern University.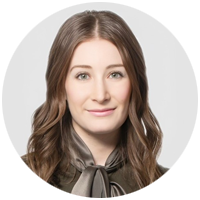 Rachel Eisenpress
Vice President
Global Digital Partnerships
Mastercard