Roshni is the current Head of Banking & Expansion – North America for Wise, a global technology company building the best way to move money around the world. She previously served as Head of Strategy & Operations with German mobile banking start-up N26 Inc. in New York City. She is a financial services professional with 14 years of industry experience.

Roshni joined Deutsche Bank in 2008 where she worked in investment banking coverage for the Financial Institutions Group. In 2011, she moved to JPMorgan Chase where she served on the Investment and Commercial Banking Strategy teams as well as in Business Management before pursuing her MBA in 2016.

Outside of work, Roshni is an avid world traveler, fiction reader and politics/technology podcast listener. She holds an B.S. in Finance from Villanova University and an MBA from the University of Cambridge.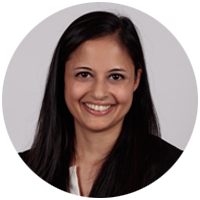 Roshni Joshi
Head of Banking & Expansion
North America
Wise