Ryan currently is the Head of Digital Assets for Citibank's TTS business. The TTS team helps enable their global clients by simplifying the management of treasuries, payments and commerce on a day-to-day basis.   The client base is broad and diverse; 18,000 clients operating across 95 countries, covering more than 90% of the Fortune 500 companies with diverse needs, which includes their journey into digital assets.  Ryan is responsible for the strategy and execution of Citi's TTS Digital Asset business. 
In Ryan's last role she was responsible for IBM's America's blockchain team, helping to enhance client's solutions and capabilities for building Digital Ecosystems.  She provided strategic guidance for; operational and governance considerations, technology roadmaps, and services infrastructure to help clients. 
Prior to that Ryan was the Global Head of the Industry business unit at the enterprise software firm, R3, where she sat at the forefront of blockchain innovation across multiple industries. She was responsible for the strategic direction of R3's key verticals, helping industry leaders capture the full benefits of blockchain for their businesses. 
Ryan also launched the Centre of Excellence for distributed ledger technology (DLT) in cooperation with ACORD (Association for Cooperative Operations Research and Development). The Centre of Excellence provides a dedicated environment for R3's and ACORD's members to research, design and deploy DLT applications that improve the efficiency of many insurance business segments – commercial and specialty insurance, life insurance, personal lines and health insurance, along with niche areas like marine and trade credit.   
Ryan believes in Delivering Through Diversity; diversity in management positions increases profitability.   Over the course of her career, Ryan has spearheaded several efforts to further diversity and retention across financial services. In her previous role at Morgan Stanley, Ryan co-led a diversity initiative to increase female analyst representation. Ahead of schedule, she made excellent progress accomplishing a 50/50 gender balanced split. Ryan continues her mission towards greater diversity in senior management, investing her time in mentoring to improve leadership skills and build proactive career development plans to empower them to executive level.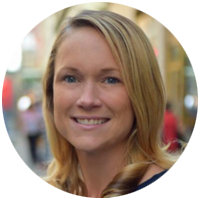 Ryan Rugg
Global Head of Digital Assets
Citi Treasury & Trade Solutions