Sharon Rivera has over 20 years of experience in payments and lending in the consumer credit and merchant acquiring space. She is currently the Head of Credit Strategy at Imprint Payments, a Series A fintech that issues cards to co-branded merchants.

Prior to Imprint, she worked at MetaBank and Credit One Bank, where she launched novel credit products for the subprime/unbanked universe and introduced nextgen targeting and underwriting strategies leveraging alternative data. She also worked at PayPal, where she managed North America and Latin America merchant risk innovating on strategies that reduced merchant attrition while managing losses down.

And prior to PayPal, she worked at American Express where she managed targeting and underwriting strategy for Digital and Direct Mail acquisition, as well as end-to-end credit strategy for 21 proprietary global markets.
Sharon was selected by Money 20/20 in 2022 as part of the Amplify program to raise the voices of people of color in the fintech and payments world. She holds a Master's degree in Operations Research and a Bachelor's degree in Mathematics. She is a native New Yorker but now resides in sunny Las Vegas.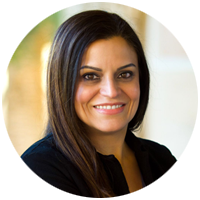 Sharon Rivera
 Head of Credit Strategy
 Imprint Payments