Vanessa Lin is the Global Head of Commercialization and Digital Products for Treasury Services.  She is responsible for the end-to-end view of the digital client experience and ensuring the strategy is cohesive across all TS products and client-facing channels. Vanessa also owns the commercialization and digital engagement strategy whereby we will map each client persona, allowing us to target our messaging and deepen our relevance in each segment.
With more than 20 years of transaction banking experience, Vanessa worked for several global banks prior to joining BNY Mellon in September 2020 as the Regional Head of Relationship Management and Business Development for North American Banks. In that role, she was responsible for growing and managing the segment, architecting and driving go-to-market strategies, and solutioning to meet the Payments, Receivables, Liquidity and Trade needs of clients. Prior to BNY Mellon, Vanessa worked for JP Morgan where she was the Global Product Head for Multi-currency Clearing responsible for several product lines that service thousands of institutional clients around the world.  Her main focus was setting and driving the overall product strategy, leading a team of product managers to develop best-in-class solutions, and improving the overall business risk framework. Before JP Morgan, she was with HSBC for over 5 years managing the Payments, Receivables and Commercial Cards businesses for the North America region.  Vanessa started her career at Citi where she spent 13 years in progressively senior roles ranging from Sales & Account Management to Strategy & Planning to Product Management.  Her last role at Citi was Global Head of USD Clearing & CLS Services. 
Vanessa is also active in the industry. She represented Citi, HSBC, and JP Morgan on various industry committees, including the CHIPS Business Committee, Fed Wholesale Payment Advisory board, SWIFT, and Fed Payment Risk Committee Workgroups, etc. Vanessa currently represents BNY Mellon in the BAFT North America Council and is the Global Co-chair for the 2022 BAFT Annual Conference. 
Vanessa holds an MBA from the Robert H. Smith School of Business at the University of Maryland.  She currently resides in NJ with her husband, two children and their pets.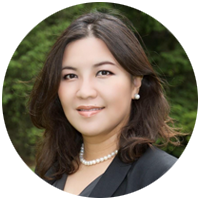 Vanessa Lin
Managing Director
 Head of Commercialization & Digital Treasury Services
 BNY Mellon